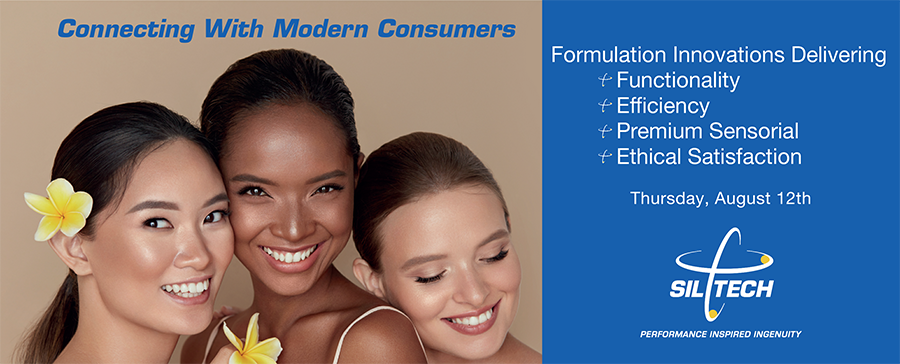 Connecting With Modern Consumers
Length: 60 minutes
Webcast Date: 12 August 2021
Time: 10:00 EST/15:00 BST
Modern cosmetic consumers purchase products expecting a multi-faceted experience.  They anticipate functional performance as advertised, a sensorial "wow" factor, and ethical satisfaction.  Ethical satisfaction has risen in significance as consumer awareness regarding environmental and social impacts resulting from individual purchasing decisions has increased. 
Products appealing not only to the senses, but also to the desired greater good, are gaining in popularity.  Brand managers seeking consumer loyalty are attempting to satisfy these evolving consumer desires.  Formulators, in turn, find it increasingly difficult to meet the ever-evolving desires. This presentation will outline multiple challenges facing formulators and provide insights for solving them.  Premium performing verified sustainable personal care formulations will be presented, alongside tangible benefits that connect with modern consumers.
Speakers
Mark Chandler
President
ACT Solutions
Mark Chandler is President of ACT Solutions Corp (Adaptive Cosmetic Technology Solutions), a formulation design consultancy and laboratory founded in 2012, serving the cosmetic and topical pharmaceutical industries. Mark has been in the industry for over 35 years, most recently serving as skin care applications manager for Croda Inc. He has had roles in Sales, Marketing, Strategic Planning and Acquisitions, and Research and Development. Mark has taught courses for the SCC, CfPA, and SpecialChem on Cosmetic Formulation, Cosmetic Raw Materials, Liquid Foundation Emulsions, Practical Basics and Theory in Emulsion Technology, Formulating for Efficacy, Surfactant Selection, Formulating with Food Ingredients, and Low Energy Emulsification for over 20 years.
Brian Allen
Global Marketing and Sales Director
Siltech
Brian Allen is Siltech's Global Marketing and Sales Director for personal care.  Siltech is a family-owned company with more than 30 years of experience specializing in the development and manufacturing of a full line of specialty ingredients including organo-functional silicones for a wide range of personal care applications.  Sustainability pervades Siltech's tactical and strategic decisions and the company remains firmly committed to leading the development of unique ingredients to benefit the ever-evolving personal care industry.
Julia Wray
Technical Editor
Cosmetics Business
Julia is Technical Editor of Cosmetics Business and has been writing about beauty and personal care industry science and supply since 2008. She provides news stories, articles and features for publication in both the magazine and on cosmeticsbusiness.com, and frequently speaks as a cosmetics expert at trade events for beauty ingredients and packaging.
Registration
Enter your email and "Lookup" to see if your details are on our system.
Fill in your contact details if we do not have them.
Confirm it's really you by receiving our verification email.