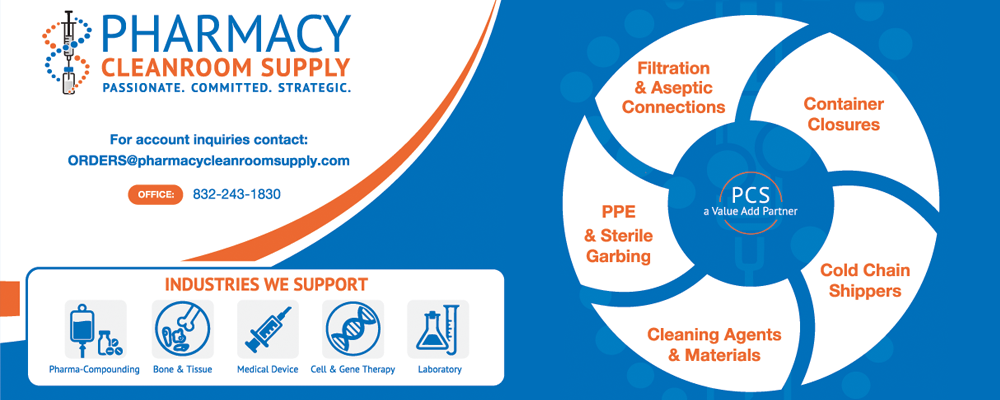 Pharmacy Cleanroom Supply – for all your sterile and non-sterile cleanroom supplies
What makes PCS different from the rest? Like our clients, PCS too is always in a state of continuous quality improvement. We consistently push ourselves to increase the quality and scope of our offerings to clients. At PCS, we are truly committed to supply chain and material storage quality!
Our headquaters have expanded into a brand-new facility in Houston, TX which permits our business to have a nationwide reach. This new facility has been designed with quality and client expectations at the top of our minds. PCS has temperature and humidity controlled warehouse space that is continuously monitored to ensure the integrity of products are maintained. Additionally, PCS's quality department has industry experienced consultants on staff ready to provide clients with technical reviews, technical trainings or validation support services.
PCS is voluntarily working to obtain ISO 9001 accreditation to demonstrate all the actions we take that go above and beyond our competition to ensure top quality in our distribution and operational systems is always achieved. The PCS team welcomes their clients to come and see our facility and meet our quality staff first hand!
At PCS, we strive for excellence in all client relationships and offer open communication, transparency & fairness as focus points to our business model. We put our clients first and are here to support their successes each step of the way!
Download the Pharmacy Cleanroom Supply brochure and receive 15% off your first order over $1000!
Register now to download brochure
Enter your email and "Lookup" to see if your details are on our system.
Fill in your contact details if we do not have them.
Confirm it's really you by receiving our verification email.