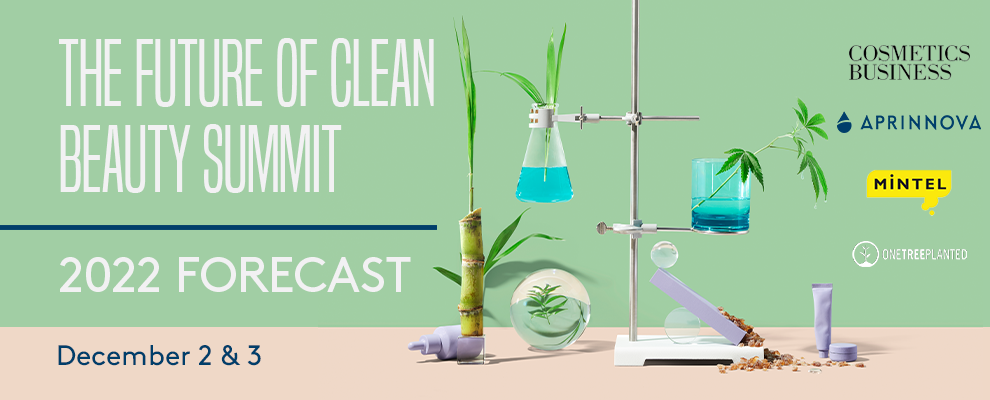 The Future of Clean Beauty Summit: 2022 Forecast
Taking place over two days
Day 1: 2 December 2021, Day 2: 3 December 2021
Time: 16:00 GMT/08:00 PST
Join the premier end of year virtual summit providing transformative beauty trend forecasts for 2022, exciting live expert conversations, and actionable formulation prototypes that are good for people and the planet. Learn how the beauty industry can be a beacon of hope in a time of climate crisis, plastic pollution, and social inequity. Ask questions from experts about your next launch and experience fast-paced, interactive sessions from leading industry visionaries. Aprinnova has partnered with One Tree Planted to plant a tree for every registrant. You will also have a chance to win one of Aprinnova's Future of Clean Formulation Kits when you register.
Day 1: Clean Beauty Consumer Trends Forecast 
Social media-based consumer trend predictions
Sustainable beauty consumer trends  
Inclusive, reduced waste and multi-functional beauty brand innovations 
Day 2: Clean Formulation Innovations: From Ideas to Action 
Clean beauty chemistry powered by sugarcane and next generation prototypes made with Aprinnova's clean ingredients
Three principles for designing clean beauty product briefs
Clean beauty formulations to inspire the next generation of launches
Speakers
John Toner leads Aprinnova's global innovation efforts to help the industry shift towards sustainability without sacrificing performance. He leads industry events and dialog between media, brand, and distribution leaders in support of knowledge sharing and continuing development, while also overseeing global campaigns for Aprinnova's line of sugarcane-derived ingredients.
Julia Wray
Technical Editor
Cosmetics Business
Julia is Technical Editor of Cosmetics Business and has been writing about beauty and personal care industry science and supply since 2008. She provides news stories, articles and features for publication in both the magazine and on cosmeticsbusiness.com, and frequently speaks as a cosmetics expert at trade events for beauty ingredients and packaging.
Sarah Parsons is an award winning journalist and editor. Specialising in beauty retail and emerging industry trends, she leads the features and news analysis for Pure Beauty and Cosmetics Business. Sarah is a judge on the acclaimed Pure Beauty Awards and is a regular industry commentator and webinar host. She is also a broadcast contributor and panel speaker for a range of platforms, including the BBC, Channel 4 and Cosmoprof Worldwide Bologna.
Sarah Jindal
Associate Director, Global Beauty & Personal Care
Mintel
Sarah has over 17 years of experience developing ingredient technologies for beauty and personal care companies. Having worked for a variety of companies over her career, Sarah has gained an in-depth understanding of the industry and draws upon not only her work experience but also degrees in Biology, Biochemistry, and Evolutionary Biology.
Kayla Quock
Director of Content Marketing
Traackr
Kayla Quock is the Director of Content Marketing at Traackr, where she focuses on educating brands about influencer marketing through data-driven stories. Her coverage ranges from state of the industry reports, to tailored strategy insights, to beauty industry trendspotting. Prior to Traackr, Kayla worked with high growth tech startups - from health to cybersecurity - to develop public relations and content strategies.
Registration
Enter your email and "Lookup" to see if your details are on our system.
Fill in your contact details if we do not have them.
Confirm it's really you by receiving our verification email.