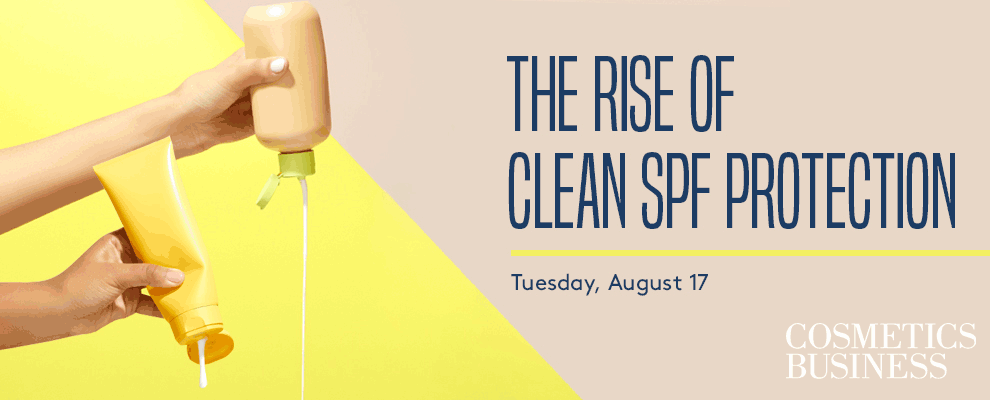 The Rise of Clean Sun Protection: LIVE
Length: 60 minutes
Webcast Date: 17th August 2021
Time: 16:00 BST/08:00 PST
A tidal wave of consumer demand for clean SPF protection is sweeping across beauty and personal care, especially in skincare and color cosmetics.
What are the top consumer drivers behind this surge and what is the most strategic way your brand can respond to this "clean sun protection" trend?
This live, interactive roundtable featuring Mintel, Aprinnova, and Cosmetics Business will offer clear guidance on new regulatory, safety, environmental, and consumer criteria to succeed with clean SPF protection. You'll have the chance to ask questions for your next launch and learn more about Aprinnova's latest innovation: a high performance, sustainable, non-whitening mineral UV dispersion.
What you'll learn:
Top consumer drivers impacting formulations with SPF
Latest regulatory SPF outlook for global new product development
Optimal strategies for formulating consumer-friendly SPF protection
The most important high stakes environmental considerations for sun protection
The latest Aprinnova technology available to power sustainable, high performance SPF protection
Register today and join live on August 17th to learn critical insights and improve your next launch.
Speakers
John Toner leads Aprinnova's global innovation efforts to help the industry shift towards sustainability without sacrificing performance. He leads industry events and dialog between media, brand, and distribution leaders in support of knowledge sharing and continuing development, while also overseeing global campaigns for Aprinnova's line of sugarcane-derived ingredients.
Clare Hennigan
Senior Beauty Analyst
Mintel
Clare Hennigan joined Mintel in 2019 after five years of experience working in the beauty industry in marketing and product development. In her current role, Clare identifies key trends and develops strategic insights impacting the beauty landscape. Her analysis has been cited in publications such as CNN, The Washington Post, and Cosmetics Design.
Julia Wray
Technical Editor
Cosmetics Business
Julia is Technical Editor of Cosmetics Business and has been writing about beauty and personal care industry science and supply since 2008. She provides news stories, articles and features for publication in both the magazine and on cosmeticsbusiness.com, and frequently speaks as a cosmetics expert at trade events for beauty ingredients and packaging.
Registration
Enter your email and "Lookup" to see if your details are on our system.
Fill in your contact details if we do not have them.
Confirm it's really you by receiving our verification email.