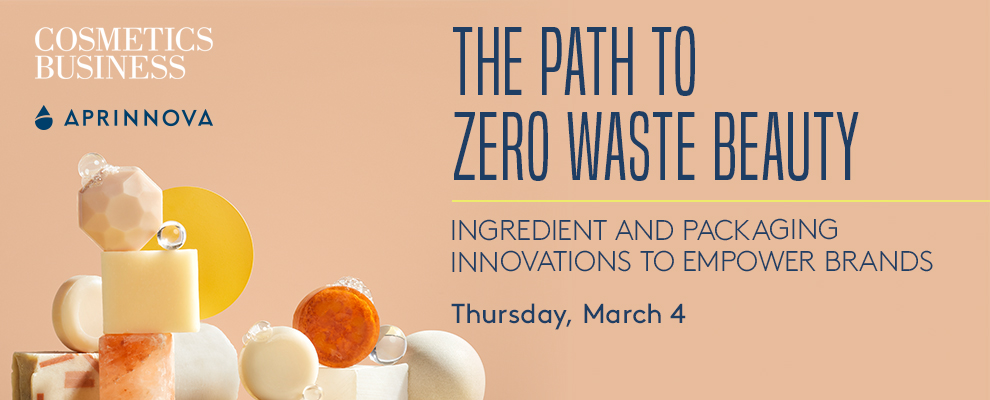 The Path to Zero Waste Beauty: Ingredient and Packaging Innovations to Empower Brands
Length: 60 minutes
Webcast Date: 4th March 2021
Time: 16:00 GMT/08:00 PST
Increasingly consumers reward brands that embody the lifestyle principles they aspire to like sustainability and authenticity.
New ingredients and product design innovations can help brands meet this demand by reducing environmental impact, simplifying ingredient sourcing while still improving performance, and launching exciting new concepts.
This premier event will showcase 2021 consumer trends driving demand for sustainability, global regulations or directives that will define sustainable packaging opportunities, and a new solid format ingredient innovation, SimplySolid, to help launch applications with reduced packaging. Global experts will answer questions about the outlook for reduced waste, best practices for ingredient sourcing, new packaging innovations, and provide specific strategies to help brands build their playbook for achieving net zero or reduced waste products without compromising brand identity or performance.
What you'll learn
Top 3 drivers of consumer demand for sustainability in 2021
How to launch solid skincare and colour cosmetics featuring SimplySolid, a solid format innovation made with Squalane
Exciting new high-performance, solid formulation prototypes for colour cosmetics and skin care made with fewer ingredients
New sustainable packaging innovations and approaches
The regulatory outlook for plastic-free and reduced-waste packaging for global launches .
Speakers
With over 8 years' experience in the cosmetics Industry, truly passionate about Beauty in and out, Marcia has recognised expertise in direct selling and product development for B2C and B2B companies, from Latin America to Europe. She has worked with and for major brands across the globe and is now facing a new challenge as the face of Quadpack's Market Insights team, a top 10 European packaging company.
Sarah Parsons is an award winning journalist and editor. Specialising in beauty retail and emerging industry trends, she leads the features and news analysis for Pure Beauty and Cosmetics Business. Sarah is a judge on the acclaimed Pure Beauty Awards and is a regular industry commentator and webinar host. She is also a broadcast contributor and panel speaker for a range of platforms, including the BBC, Channel 4 and Cosmoprof Worldwide Bologna.
John Toner leads Aprinnova's global innovation efforts to help the industry shift towards sustainability without sacrificing performance. He leads industry events and dialog between media, brand, and distribution leaders in support of knowledge sharing and continuing development, while also overseeing global campaigns for Aprinnova's line of sugarcane-derived ingredients. In previous roles, Toner managed program implementation and business development for global United Nations governance and technology platforms spanning education, aid effectiveness, and aid coordination. In 2017 his startup, Information for Action, was awarded Winner of Fast Company's World Changing Ideas Awards for its app linking online news articles to opportunities to get involved.
Ben Grace founded SBTRCT (pronounced "Subtract"), in 2020, on one guiding principle; less is more. By stripping out the things we don't need in life, we are more able to love the things we have made a conscious choice to keep. The SBTRCT philosophy of minimalism is one that has gradually crystallised throughout Ben's 15 year career in skin care; a journey starting with the marketing for Beiersdorf (NIVEA) brands and progressing to a formative 10-year journey as a founding partner of men's skin care brand Bulldog, a progressive business where ethical sourcing and sustainability were at the core of the brands proposition. Both frugal and environmentally aware, when Ben decided to channel his extensive experience and personal ethics to build his own skin care range, his vision was simple; solid skincare products for people who want to make a difference to the world without compromising on having great skin or beautiful design. The incredible formulations are solid in state, 100% plastic free, palm oil free and contain less that 0.5% water, addressing the 3 biggest environmental challenges facing the industry. Plastic pollution, water waste and the use of palm oil.
Registration
Enter your email and "Lookup" to see if your details are on our system.
Fill in your contact details if we do not have them.
Confirm it's really you by receiving our verification email.